"In 1976, Elizabeth Taylor took her first and only trip to Iran, where provided an exotic and engaging locale for her, a tireless global wanderer still at the height of her fame. She traveled to the main tourist sites: ancient Persepolis, Shiraz, home of poetry and wine, and Isfahan, renowned for its beautiful tile-clad buildings. Grouped in narrative fashion, the images depict people and places with the actress as tourist, but one so iconic that she is never anonymous even wrapped in a chador. In the Isfahan bazaar, Taylor was attracted to and purchased a traditional tribal outfit. Dressed in this colorful costume and in full makeup, the film star posed as an Oriental odalisque, an especially suitable persona for one who was herself a male fantasy."
HiTehranTours Team as a professional group of tour leaders and experience-oriented travelers, are aware of how important it is not just to present the technical and historical aspects of a touristic sight, but to experience the culture and lifestyle in depth. To experience Iran like a local and have the benefits of a relaxed, fun and organized trip like a tourist. From drinking a rosewater tea in an old small teahouse and live the atmosphere in the moment to see the mesmerizing touristic sights and walking endlessly in old neighborhoods and connect with the real gems of Iran: Folks. For us, "It' an absolute thrill to see our own country through travelers' eyes" and represent it back through a real experience.
"Elizabeth Taylor Tour" is meant for sharp travelers who wants to experience Iran through all its ups and downs and have a real picture of it. We chose this name to put an emphasis on the uniqueness of this journey as what she had. At first this tour was supposed to be programmed just for solo women travelers as the name of the tour resembles and since our tour leaders are passionate energetic young women who have the experience and spirit at the same time. But why having a limitation when everyone can enjoy a lifetime memory.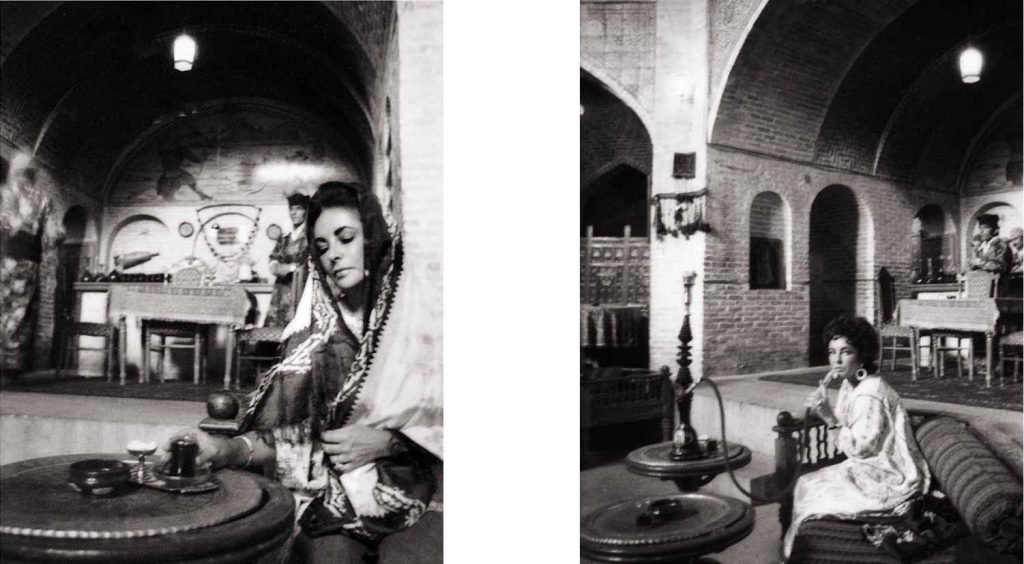 Tour Description
Rasool Faramarzpour, our great experienced climbing leader which is one of the prominent Iranian mountaineer is the perfect choice if you have Damavand in mind. He has nearly climbed all the mountains and walls of Iran in different seasons which make him very familiar with different routes and region of Alborz and Zagros Mountains. As he's from the region and owns the most well-known hostel in Damavand region, he knows the experience the best.
Tour Type
Art and Culture/ Real life & Local experience/ Multiday
Season Types
All seasons
Start City
Tehran
Accessibility
Walking requires, moderate fitness level.
Inclusions
Tour Guide
Breakfast, Lunch
Accommodation in Kashan, Isfahan, and Shiraz, (High Standard Hostels and 3 star Hotels/ Private Room)
Transportation (Private car/Personal driver/fuel)
Exclusions
Tehran accommodation fees
Entrance fees
Insurance
Dinner
Transportation
Inter city Transportation (Private car)
Inner city Transportation (Metro, Taxi, walking)
Requirements
Comfortable walking shoes, sun cream and shield for summer, and other personal belongings.
Languages
English
Duration and description
Plan A. Tehran-Kashan
2 Days Tehran Tour + 2 Days, 1 night Kashan Tour
Day 1) The tour will start at 9 AM. Visiting Golestan Palace, walking through the Grand Bazaar, Lunch in the Bazaar, visiting jewelry museum, National facade, foreign ministry & Art University monuments, Relaxing and having a traditional drink, Moghaddam House, Contemporary Art Museum / Dinner at traditional Azari Teahouse with live music and hookah bar (dinner is excluded/can be replaced).
DAY 2) The tour will start at 9 AM. Going to Tajrish square and its traditional Bazaar, Imamzade Saleh shrine, Walking and relaxing in Darband (Tochal mountains), Having lunch and tea, walking down the Valiasr street, Visiting Heaven Garden, going to Fire & Water Park, Visiting Tabiat bridge and having dinner on the bridge (dinner is excluded/can be replaced).
DAY 3) The departure will be at 8:30 AM by a private car along with your tour leader. It will be about 3 hours ride to Kashan. Will leave the bags in Kashan hostel. Visiting Historical Tabatabaei House, Visiting Abbasi Historical Mansion, Lunch and coffee, Visiting Sultan Amir Ahmad Bathhouse, Visiting Fin Garden, back to the hostel, relaxing, walking in the city, having dinner (dinner is excluded/can be replaced).
Day 4) Starting at 9 AM. Visiting Silk textile workshops, visiting traditional bazaar of Kashan, having lunch and tea, driving back to Tehran in the afternoon. End of tour.
Plan B. Tehran-Kashan-Abyaneh
Following plan A, leaving Kashan earlier after traditional bazaar on the day 4 to Abyaneh ancient village (about 3 hours ride) where is famous by the name of Red village. Its habitants are Zoroastrians who welcome travelers with homemade dried fruits and local cuisine. Abyaneh is located inside the mountains and offers the peace, mesmerizing architecture, and lovely culture and spirit. A whole package. Having the lunch, searching and relaxing in the village and driving back to Tehran in the evening. End of tour.
Plan C. Tehran-Kashan-Abyaneh-Isfahan
Plan B + 2 Days, 3 nights Isfahan Tour with local tour guide
Following plan B, continuing from Abyaneh to Isfahan instead of getting back to Tehran on day 4 (about 2.5 hours ride), sleeping in Isfahan Hostel.
Day 5) Starting at 9 AM. Visiting Naghsh-e- Jahan square (Imam mosque- Sheikh Lotfollah mosque- Ali Qapou – Qeysarieh Bazaar) which takes about 5 hours. Having lunch and tea in the square, going back to the hostel for resting or if still energetic, going for shopping in the Qeysarieh Bazaar and walking in the city, having an early dinner and sleep in the hostel (dinner is excluded/can be replaced).
Day 6) Starting at 9 AM. Visiting Jame mosque (it takes about 3 hours), visiting Jolfa neighborhood and Sangtarashoon old neighborhood, French school neighborhood, Lunch in Jolfa, visiting Vank Cathedral, visiting si-o-se pol bridge, sleeping in Isfahan hostel (dinner is excluded/can be replaced).
Day 7) Starting at 8:30 AM. Having the breakfast at Chah Haj Mirza teahouse and driving back to Tehran. End of tour.
Plan D: Tehran-Kashan-Abyaneh-Isfahan-Persepolis-Shiraz
Plan C + 3 Days, 3 nights Persepolis & Shiraz Tour with local tour guide
Following plan C, continuing from Isfahan to Shiraz instead of getting back to Tehran on day 7 (about 4 hours ride), visiting Pasargad (The great Cyrus Tomb) on the way, having lunch, continuing to Shiraz, walking around if still energetic, having dinner (excluded in the fee), Resting and sleeping in Shiraz hostel.
Day 8) Starting at 8:30 AM. Going to Marvdasht to visit Perspolis and Necropolis, having Lunch, coming back to Shiraz, Visiting Hafezieh (Hafez tomb and garden), having a traditional drink, Visiting Shahcheragh mosque and neighborhood, walking in the cityResting and sleeping for the night in Arg Hotel;
Day 9) Starting at 9 AM. Searching Shiraz, visiting Narenjestan Garden, visiting Nasir-Almolk mosque which is famous by the name of pink mosque, having lunch, visiting Arg-e Karimkhani, Vakil Bazaar, shopping or walking around, having dinner and getting back to hostel for sleeping (dinner is excluded/can be replaced).
Day 10) Starting at 8 AM, having the breakfast at the hostel or a local teahouse, driving back to Tehran (about 10 hours ride). End of tour.
Group Size and Fees
Plan A: 1 person/single room 410 € – 2 person/ double room 450 € – 3 person/ triple room 490 €
Plan B: 1 person/single room 440 € – 2 person/ double room 490 € – 3 person/ triple room 540 €
Plan C: 1 person/single room 1050€ – 2 person/ double room 1200€ – 3 person/ triple room 1450€
Plan D: 1 person/single room 1970€ – 2 person/ double room 2100€ – 3 person/ triple room 2500€
---
You can ask the details of tours by emailing us at: hitehranhostel@gmail.com