Many travelers wish to explore a new country on their own terms despite some others who prefer to be laid back and enjoy a designed tour. This article is meant for those whom prefer to rent a car in Iran. Car rent in Iran, helps you to visit as many cities in Iran as possible in a limited time. Iran is a very diverse and big country and it's a pity to loose many of its ancient beautiful villages on the way or to enjoy the top road trips in Iran itself. Also, it will allow Iran tourists to choose a route based on their own preferences or their time. Yet, traveling on budget and reducing travel costs is the biggest reason to go with renting a car while traveling. So, here is an ultimate guide and service for car rental in Iran.
How is driving in Iran?
You might have heard driving in Iran is crazy with its traffic in big cities and cars rushing and pedestrians passing by carelessly. The truth is that it's not completely false. Unfortunately, one thing that we can't brag about is our driving in Iran. Low penalty fees and temper in the culture of driving in Iran sometimes cause disaster on the roads. Continues car horns, unnecessary exceeding and not preserving the safe speed limit or distance can be witnessed while driving in Iran. So, you need to be more patient and way more careful as a driver or pedestrian, because some of the Iranian drivers ignore the driving rules. Other than that, driving rules in Iran are according to the international driving rules that are common in all countries.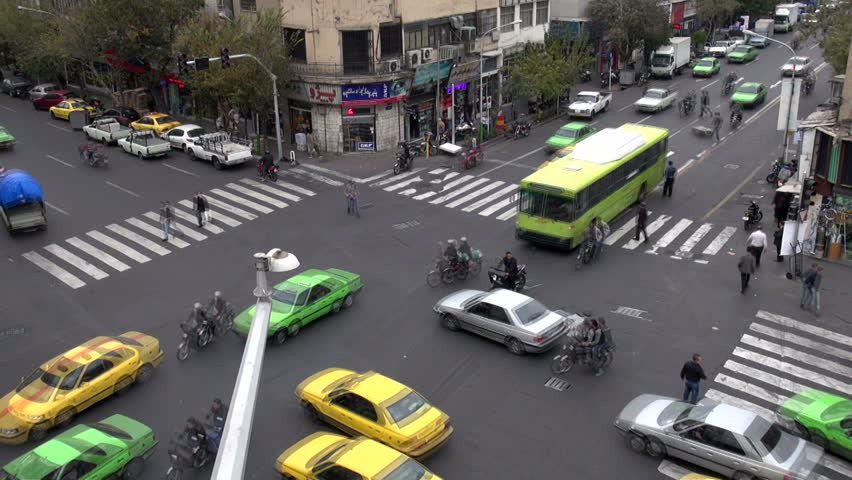 Driving in Iran roads and streets
Most of the roads between and inside the cities of Iran are in good condition, and there are many high quality high-ways and express-ways between the main cities. Speed limits in suburban highways is 80 Km/H, and for intercity freeways it's 110-120 Km/H. Note that, there are no limitless roads in Iran.
Important Note: There are limitations on entering some areas of Tehran, especially the central parts of the city due to its traffic jam. This limitation schedule is from Saturday to Wednesday 06:30 AM to 19:00 PM and from 06:30 AM to 13:00 PM on Thursdays. There's no limitation on Fridays. If you want to commute in these parts of Tehran, you have to buy a traffic permit for you. It allows you driving in Iran in these areas in banned hours. The price of these permits is 500,000 IRR (about 4 Euros).
Gas stations and petrol price in Iran
The current Petrol price in Iran is 30.000 Rials per liter which is unfortunately very cheap comparing to the global prices. There are plenty of gas stations on the roads and you can find all the gas stations in the cities of Iran via Google Maps or Waze. Also, note that in the gas station, you may see two types of petrol: regular and super. The regular one is suitable for cars, so no need to go for the super one which is more expensive.
Note: Only use Petrol for your rental cars. Don't use CNG gas or gasoline for your cars since they might be presented in many of gas stations as well.
About Iran car rent through Hi Tehran Hostel
Hi Tehran Hostel as one of the most trusted and well-reputed hostels, Iran tour operators, Iran E-visa providers and tourist services, can help you to explore Iran with a rental car. To provide help and value for our guests and Iran travelers, we have made contracts with the most reliable and convenient car rental Iran services. We should mention that all of the rent cars are full insurance covered with free mileage. Here are some of the self-drive rental cars, we provide:
| | |
| --- | --- |
| SEDAN | SUV & VAN |
| SAMAND LX (model: 2020-2019) | HYUNDAI SANTAFE NEW (model: 2017-2015) |
| RENAULT L90 (model: 2018-2017) | TOYOTA PRADO (model: 2013-2008) |
| PEUGEOT 206 (model: 2019-2018) | TOYOTA LANDCRUISER (model: 2013-2010) |
| PEUGEOT 206SD (model: 2019-2018) | BMW X3 (model: 2009 to 2013) |
| PEUGEOT 207SD (model: 2019-2018) | KIA SORENTO (model: 2017) |
| KIA CERATO (model: 2018) | TOYATA RAV4 (model: 2016) |
| HYUNDAI SONATA YF (model: 2018-2015) | VAN TOYOTA HIACE (model: 2017) |
Iran car renting guide
The first step is to EMAIL or WhatsApp us the pickup and drop off date and location. Luckily this service is available in the most important cities of Iran like: Tehran, Shiraz, Isfahan, Yazd, Tabriz, Kerman, and Bandar Abbas. Whether at IKA Tehran airport or at your hotel/hostel in Iran. The next step would be to choose your preferred car type and the type of service and insurance you desire which is reflected in this article. Then, you need to send us your personal information and required documents which are reflected in this article as well. All of the process is communication based and step by step to present the best service.
Extra facilities for car renting
There are some extra free facilities for you while renting a car through Hi Tehran Hostels such as: Unlimited kilometers; Collision damage waiver; Personal accident protection (driver and passengers); Car Mobile Charger; Additional driver; Snow chains. There are also some extra facilities that need to be paid if you wish to have them such as: Windscreen, lights and tire protection; Theft protection; Wireless Internet Modem +10GB free; Baby safety seat +1 years; Car Roof rack.
To have more information and start your Iran car rental process, send us an email at: hitehranhostel@gmail.com or WhatsApp: +912 053 0663
Required Documents for car renting in Iran
In order to Rent a car through Hi Tehran Hostel, the driver or drivers MUST have all of the following requirements:
Age limitation: Minimum age of 19 is required for renting a car by international drivers;
Driving license: For all drivers, International Driver's License is required. If you only have your local driver's license, you ae limited to drive for 6 months after your arrival in Iran;
Extra Driver: No extra fee will be charged for the extra driver. Yet, all of the drivers should present their driver's license;
Required Identification Documents
Whether your accommodation in Tehran is Hi Tehran Hostel or another residency, you can use our car rental service and have get your car at your location. What we need as your identification documents are:
Copy of passport;
Copy of Visa;
Copy of your flight ticket.
NOTE: The rental fee will be received at the time of ordering through online transferring or if you are already in Iran, by cash. and deposit will be received at the time of delivering the car.
Deposit terms and conditions
Deposits for economy Sedan cars are from 400 to 500 euros;
Deposits SUV and luxury cars are from 700 to 1000 euros;
All of your deposit will return when you return the car and we won't hold it.
Iran Car Rental services and insurance
Free mileage has been considered for all of our Iran rental cars;
Car service and support will be available in almost all of Iran in about 1 hour (In very off the road areas, the support service might take up to 3 hours to arrive);
If you need a car replacement, it will be changed less than 24 hours for free. With no extra charge.
Here are daily insurance types and Km conditions:
| | | | |
| --- | --- | --- | --- |
| Items | Basic | Medium | Golden |
| Mileage Limitation : 300 k/m per day | * | * | * |
| Theft Protection | * | * | * |
| Collision Damage Protection | * | * | * |
| Relief Road in less than 45 minutes | * | * | * |
| Unlimited Mileage ( Free K/M) | – | * | * |
| Free car replacement throughout Iran in less than 24 hours | – | * | * |
| Personal Accident Protection | – | * | * |
| Tires Protection | – | – | * |
| Windscreen, Glass, Lights Protection | – | – | * |
| Providing hotel at a time of car failure | – | – | * |
| financial responsibility of economical cars | 800 € | 400 € | 300 € |
| financial responsibility of SUVs | 1200 € | 800 € | 700 € |
| Insurance Price of economical cars | Free | Free | 19 € |
| Insurance Price of SUVs | Free | Free | 28 € |
FAQ about driving and car renting in Iran
What's the level of alcohol limit for the driver in Iran? The legal blood alcohol level is 0.0% for the driver or passengers! Police may control and test if you are under influence of alcohol and drugs or not randomly.
Do I need an international driver's license for driving in Iran? Not necessarily. Not if you are staying in Iran under 6 months.
What type of cars can I rent in Iran? The most available car brands to rent in Iran are Hyundai, Toyota, KIA, Peugeot & Renault.
How are roads in Iran? Roads inside and in between major Iranian cities are rather good. However, some rural roads in the nature might be not high standard.
Where can I drop off my rental in Iran? You can drop off your rental car in Tehran for free or in other major cities such as Isfahan, Shiraz & Yazd for a fixed fee.
What is the gasoline price in Iran? Gasoline prices in Iran is currently around 30 cents per Liter.
Can women drive in Iran? Yes of course. Yet, as the official dress code, female drivers should have a head coverage. Read more about dress code in Iran.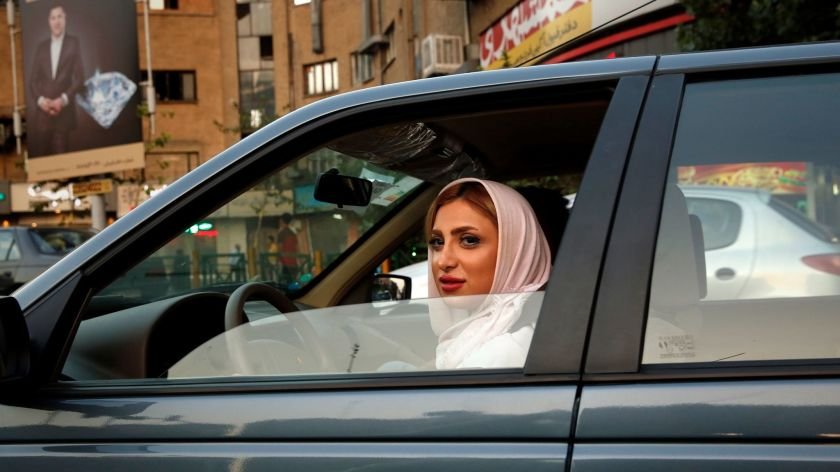 Is there a contract and official invoice when renting the car? Yes. At the pick -up point, you will receive an official contract and invoice.
Are the rental cars covered by full insurance? Yes. All of the cars are covered by the most complete and highest level of CDW insurance.
Is it possible to get the car at my desired location in Iran? Almost. You can deliver the rental car at the IKA airport, or in your hotel/hostel in Tehran. Iran rental cars can also be delivered in Shiraz, Isfahan, Yazd, Bandar Abbas, Tabriz, and Kerman.
How can you find the responsible person at the pick -up time at the airport? Since one of the required documents is your flight ticket, we will be aware of your arrival time and the responsible agent will be waiting for you with a boar with your name at the airport final gate.
How long is the minimum rental period? The minimum rental period for self- drive cars is 3 days. Cars and vans with a driver are hourly and daily.
What will happen if the car breaks down? All cars are produced newly and if any technical problem happens, we will provide customer service in about 1 hour anywhere. Also, we will change the car less than 24 hours if necessary. All of these services are free.
How much is the deposit to rent a car? The deposit for Sedan cars are between 400-500 Euros and for SUVs between 700-1000 Euros.
What documents are needed to rent a car without a driver? Copy of the passport + Deposit fee + Copy of driving license (international or local) + Return flight ticket. deposit is returned to the customer at the drop off time.
Is canceling the car rental reservation costs or it's for free? You can cancel your reservation for free.
Financial transparency is one of the most important items in car renting. From the beginning of the process, there will be clear expenses in car renting in Iran through Hi Tehran Hostel. All of the costs will be mentioned clearly in the contract with no hidden fees.
Writer: Golnar ZAMANI
---
Book Your Stay at Hi Tehran Hostel Now
HI Tehran Hostel offers excellent value budget accommodation in a convenient location of Tehran, Dorms from 5 Euros, Privates from 20 + 24/7 Reception. You Are Invited!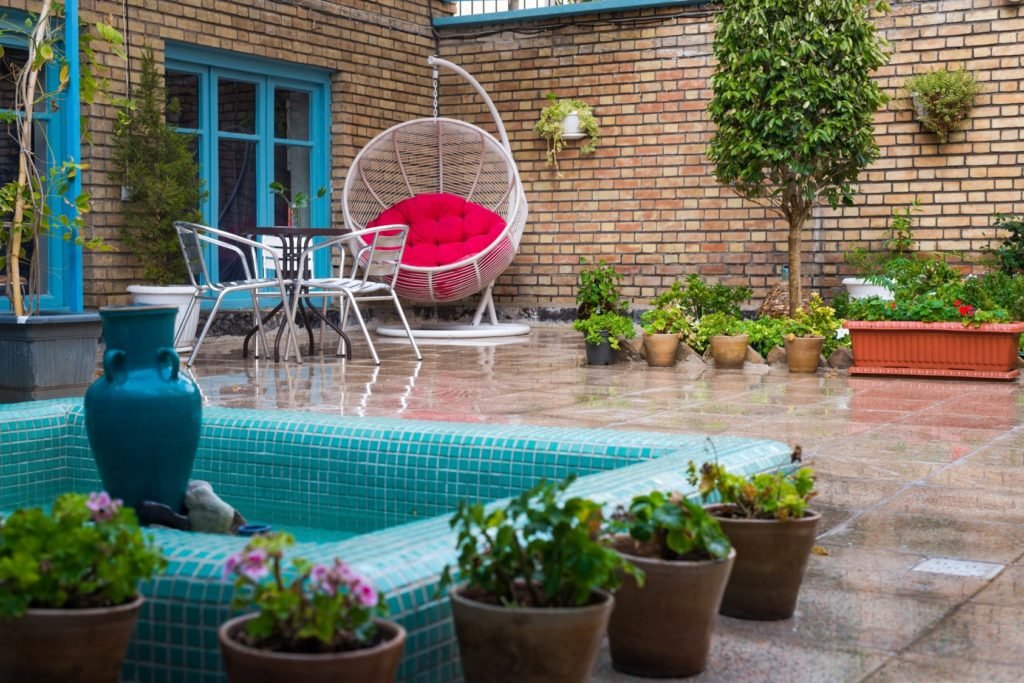 Hi Tehran Hostel Video Tour