Tehran, this beautiful metropolis contains many awesome old museum and mansions which are the main tourist attractions of it. Yet amid these spectacular museums, there is a particular one related to Time. Time Museum founded 17 years ago as the first time museum in Iran.
The museum building
To begin with the senses, the sound of twittering birds, wind in the trees and the mesmerizing atmosphere of the neighborhood that stands hand to hand with the art of plaster, tiling, architecture and Chinese knot will make you forget the time. The 80 years old mansion is located inside a 5 hectares garden, which dates back to Muhammad Shah and Naser Aldin Shah(Qajar) Era.
Different sections of the museum
In the lush outdoor section of the museum, primary watches replicas such as sundials, water, sand and fuel based types have been presented, which visitors can closely interact with them and get familiar with their shapes and functions.
The mansion consists of two floors. On the first floor, the evolution of mechanical watches from the seventeenth century to the twentieth century is on display. Each one of hawk, pendulum, desktop, and wall standing watches, depicts the craft of watchmaking compilation. It seems like various arts such as sculpture, enamel, and mosaic have been represented at the wheels of time.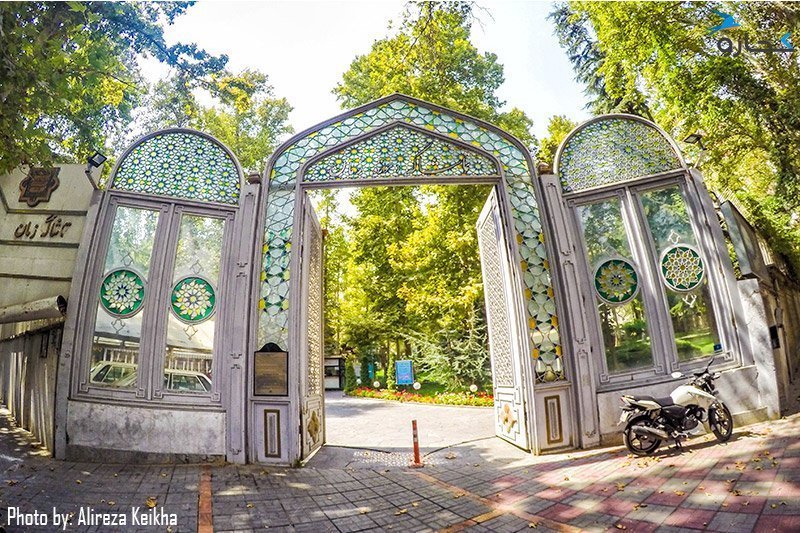 On the second floor of the museum, conventional pocket watches owned by prominent political and historical characters, and also specific clocks relevant to time stamping cards, shift guards, ships and army in different types can be visited.
At the calendars spectacle, you can see the evolution of time measurement tools, a prototype of the oldest dated Persian document, mechanical watches from ancient and Pre-Islamic era to more contemporary ones. Notable types of fossils from different geological eras and famous clocks and watches from artists and craft makers are also presenting in this floor of the museum.
Directions
How to get to Time Museum in Tehran
To reach Time Museum, you can take a bus Vali Asr BRT Line and go to Za'faraniyah station (زعفرانیه). After five minutes walking on Za'faraniyah Street, you will reach Barzin Baghdadi intersection where Time museum is located. Also, if you are planning to travel to Time Museum by Tehran Metro, You should use Line 1 toward Tajrish Sq. and leave the train at Tajrsih station after leaving the station with taxi or bus on BRT line on Vali Asr go to the south and go to Zafaraniyeh station. Then go to the museum Za'farani avenue. Photography is free in the courtyard and inside the museum. The museum's entrance fee is 20000 Tomans and it is open from 9:00 am to 16:00 when visiting this museum every day (except Fridays and National Holidays).
Website: http://cio-museums.org/en/place/time-museum-en/
Tel: +982186082903-19
Working Hours: 9AM- 4PM (Except Fridays and national holidays)
Writer: Golnar ZAMANI
Book Your Stay at Hi Tehran Hostel Now
HI Tehran Hostel offers excellent value budget accommodation in a convenient location of Tehran, Dorms from 5 Euros, Privates from 20 + 24/7 Reception. You Are Invited!

---
Was this article helpful? Share it with your friends!