Decreasing mortality rates and an influx of migrants for more than 200 years, transformed Tehran from a 7.5 square kilometer city of 15,000 inhabitants into a mega-city of ten million sprawlings over 600 square kilometers. Spreading subsumed flatlands to more than seventy villages on its adjacent mountain slopes, today's Tehran varies 800 meters in elevation from south to north. The city's topographical variation is paralleled by the marked differences in class and lifestyle of its inhabitants and religions. We can claim that most of Iran's urban and pastoral nomadic areas are represented in Tehran's population. In the 20th and 21st centuries, Tehran has been the subject of mass migration of people from all around Iran.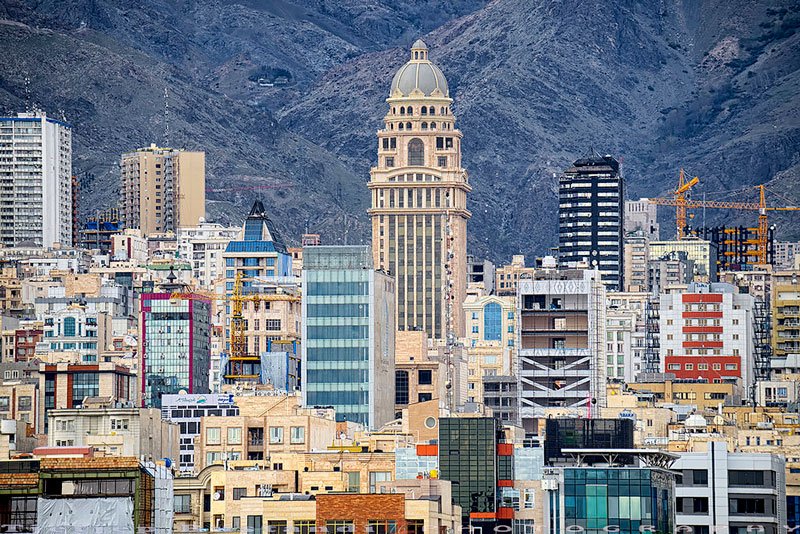 From an urban perspective, the city is the home of many historic mosques, churches, synagogues and Zoroastrian fire temples. However, modern structures, notably Azadi (Liberty) Tower and the Milad Tower, have come to symbolize the city. Tehran is ranked 29th in the world by the population of its metropolitan area. Throughout Iran's history, the capital has been moved many times, and Tehran is the 32nd national capital of Iran although it has been Iran's capital for more than 240 years now. Although a variety of unofficial languages are spoken, roughly %99 of the population understand and speak Farsi (Persian). The majority of people in Tehran identify themselves as Persians. In Pre-Islamic and early Islamic era, Tehran was an unimportant village, and part of the area of present-day Tehran was occupied by Rey (which in the Avesta occurs in the form of Rhagae), now a part of Tehran, which took over its role after the destruction of Rey by the Mongols in the early 13th century.
The city of Tehran is divided into 22 municipal districts, each with its own administrative centers. These districts contain the following major neighborhoods:
Abbas Abad, Afsariyeh, Amaniyeh, Amir Abad, Aryashahr, Bagh Feiz, Baharestan, Darakeh, Darband, Dardasht, Darabad, Darrous, Dehkadeh Olympic, Ekhtiyariyeh, Ekbatan, Elahiyeh, Evin, Farmaniyeh, Fereshteh, Gheitariyeh, Gholhak, Gisha, Gomrok, Hasan Abad, Jamaran, Jannat Abad, Javadiyeh, Jomhouri, Jordan, Lavizan, Mehran, Narmak, Navab, Nazi Abad, Niavaran, Park-e-Shahr, Pasdaran, Piroozi, Pounak, Rey, Saadat Abad, Sadeghiyeh, Seyed Khandan, Sohrevardi, Shahr Ara, Shahr-e-Ziba, Shahrak-e-Gharb, Shemiran, Tajrish, Tehranno, Tehranpars, Tehransar, Vanak, Velenjak, Yaft Abad, Yousef Abad, Zaferaniyeh, et
Tehran's old city fabric changed dramatically during the Pahlavi era. Some of the older remaining (Qajar era) districts of Tehran are Oud-lajan, Sangelaj, Bazaar, Chaleh Meydoon, Dowlat, Pamenar. Chaleh Meydoon is the oldest neighborhood of the aforementioned. Districts during the Pahlavi era are Sepah str (Imam Khomeini), Toopkhane, Lale Zaar str (the architecture of this street was European style) & Estambol str. Other old districts are Doushan-Tappeh, Doulab, Sabzeh-Meydoon, Zarrab-khaneh, and Galou-Bandak.

North Tehran is a wealthy region in this Metropolis. It consists of various smaller districts from North East to North West; Such as Zaferanyieh, Jordan, Elahiyeh, Kamraniyeh, Ajoudaniyeh, Farmaniyeh, Darrous, Gheitaryieh, etc.
Book Your Stay at Hi Tehran Hostel Now
HI Tehran Hostel
offers excellent value budget accommodation in a convenient location of Tehran,
Dorms from 5 Euros, Privates from 20 + 24/7 Reception. You Are Invited!
Was this article helpful? Share it with your friends!