Baluchistan is the land of extreme beauties. The land where desert meets the ocean, where you can find green in the heart of nowhere, experience deep kindness from the people whom their image hasn't been received clear since they are not fully privileged. The land of Mud Volcanoes, Wadi, crocodiles, Chrystal clear waters and dreamy beaches where is perfect for a Iran winter tour. But Baluchistan of Iran can be also about poverty, undeveloped, without proper infrastructures. A combination of heaven and hell which makes it perfect to be discovered with proper plan of Iran winter tour. When it comes to Baluchistan, there are still many clichés. But, yes! it's safe; the people are friendly; and a woman can go there!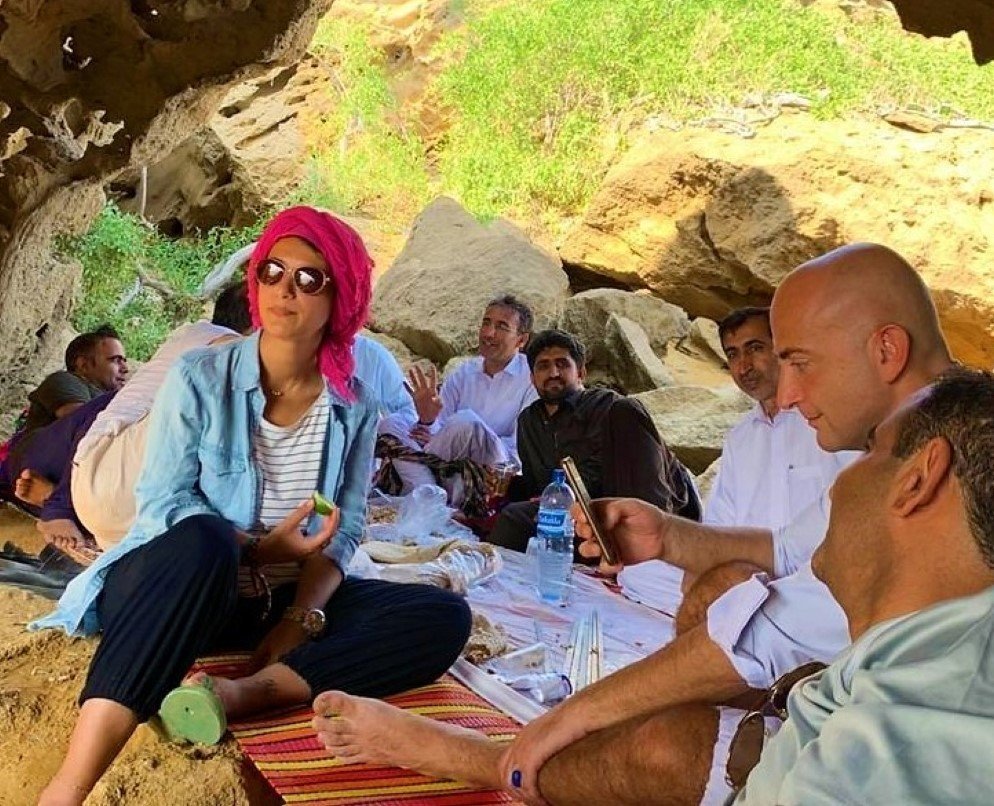 HiTehranTours Team as a professional group of tour leaders and experience-oriented travelers, are aware of how important it is to consider every aspect of an Iran tour. from considering maximum safety to being adventures, from having fun to relaxing and having an in-depth experience of the context, whether, from the historical perspective to cultural and natural. Hence, we have designed this tour by having real experiences for more than a month in the region to be able to consider every possible details with the help of pro local guides.
"Baluchistan Winter Tour" is meant for sharp travelers who wants to experience Iran through all its ups and downs and have a real picture of it beside exploring Tehran, Isfahan and other touristic cities. We aim for you to enjoy the limitless natural beauties while wearing a traditional Balouchi cloth (the least advantage will be a perfect Instagram photo!), listening to the regional music while exploring the area, have a sandy feet and swimming in wadies and rooting for Shir Chai and hot spices. So, if you're looking for a fun adventure off the beat, Baluchistan is a top choice in cold seasons.
Here is the "Baluchistan Winter Tour" details:
Tour Type
Nature/ Real life & Local experience/ Multiday
Season Types
Late Autumn, Winter
Start City
Chabahar, Sistan and Baluchistan Province
Accessibility
Walking requires, moderate fitness level, patience, acceptance of the raw setting
Inclusions
Tehran-Chabahar-Tehran plane ticket;
Airport transfer from Chabahar airport to city and reverse;
Four-star international hotel (single/double rooms): It is possible to have accommodation in local houses but the setting will be more safe and easy for recovering from day trips in Chabahar hotel;
Tour Guide: Fluent in English, very trusted and professional, local;
Lunch in local houses: There are no restaurants available on the way of sites and small villages. Also having the experience of the region local food has been considered;
Mineral water for the day trips: In general, the tap water in the region is not sweet nor suitable for drinking;
All Transportation (Private SUV car/Personal driver/fuel)
Exclusions
Transportation
Inter city, desert and day trips Transportation (Private SUV car)
Inner city Transportation (Private car)
Requirements
Comfortable walking shoes, sandals, sun cream, sunglasses and shields, light clothes, and other personal belongings.
Languages
Package, duration and Description
Day trip package 1:
Rocky Komb Beach
Relaxing in Ramin Beach
Pink Lake
Visiting the banyan tree
Martian mountains
Beris beach and wharf
Pasabandar beach and wharf
Cape Iran
Goatr and Avicennia marina
***If possible, watching Dolphins and boat riding***
Day trip package 2:
Searching Chabahar Traditional Bazaar early morning
Visiting Stone Wharf
Visiting Konarak beach and wharf
Passing through Makran coastline
Visiting Corky beach and wharf of Pazam
Day trip package 3:
Tropical Gardens of Kahir
Gel Afshan (Mud Volcano)
Visiting the banyan tree of Tang
Khoor Tang (intersection of desert and ocean) and boat riding
Relaxing in Darak beach (intersection of desert and ocean)
Day trip package 4:
Searching Chabahar Traditional Bazaar early morning
Riding from Chabahar to Bahoo Kalat and visiting villages
Crocodile pond of Bahoo Kalat
Dashtyari villages and wadi
Day trip package 5:
Historical village of Tis
Portuguese Fort and Castle
Relaxing in Tis beach
Cemetery of jennies
Baan Mesiti Caves and Temple
Tis Garden
The Jame Mosque of Tis
Note: The fees of each package has been mentioned separately and they will be added to the BASE FEE (see the Inclusions section).
Note: watching phytoplankton during the night is one of a kind experience. But it's not possible to see them necessarily every night. If the timing was suitable for the experience, this option can be added to the packages.
Note: The region is safe even for solo female travelers while with the tour. There are absolutely zero risk.
Note: Kindly ask your tour leader to hand you a garbage bag and help us keep the beaches clean. We humbly ask you to participate in picking plastics from beaches, even just few of them after each visit. Unfortunately, the littering culture exist in that region as well as other parts of Iran. Observing a tourist picking some plastics from the nature will have an influential and sustainable effect on locals and other travelers.
Group Size and Fees
The package is designed flexible for the number for different group sizes. You can ask the details of tour fees by emailing us at: hitehranhostel@gmail.com or Whatsapp us: +98 912 053 0663
Book This Tour
Book one of our professional tours and get 15% off on your room