Despite the awareness toward sustainability is increasing every day, Iran has been a little left behind. The truth is whatever industry you are in, environmental sustainability and social responsibility should be considered. Hospitality industry is no exception. Especially the rich traditional culture of Iran which embrace sharing, reusing, durability and less consumption is a perfect source of inspiration for getting Eco-friendlier. It's now the time to bring some of those old green attitudes back to our Eco-friendly Hi Tehran Hostels. We also encourage and invite other hostels to follow Hi Tehran's steps in this positive process.
Why becoming an eco-friendly hostel?
There are many reasons to consider making an eco-friendly hostel. There is, of course, the obvious reason: it is good for the planet. Yet the more self-satisfaction by green practices in not only a hostel but any other business or even the personal life can also be a good reason. Especially if it's not a short term approach. We consciously tend to differ our self from other hostels in Tehran by going green and acting as an eco-friendly hostel and we are glad to see our guests are also becoming increasingly sensitive about the environmental impact. So, by incorporating eco-friendly practices into Hi Tehran Hostels' we have in mind to stay honest and genuine about it. We are fully aware we are only beginners in this approach and still have so much to learn and adapt. That's why we count on our guest's help and advises as well.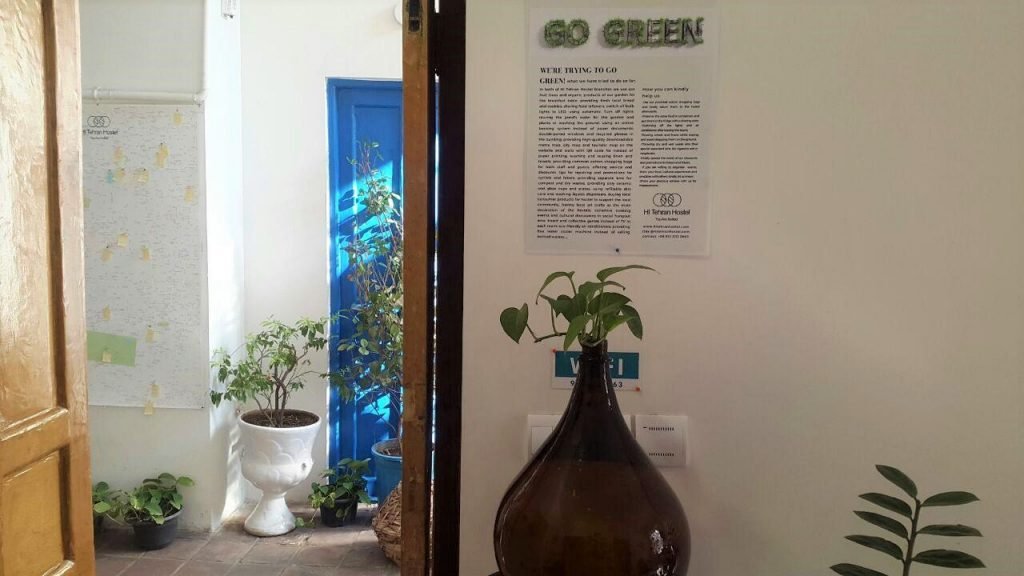 Examples of Hi Tehran Hostel's Sustainable Practices
In both of Hi Tehran Hostel branches we try our best to improve ourselves by being an Eco-Friendly Hostel. Going green environmentally and acting socially responsible as a multi-ethnic team is a big challenge for us and we try to improve with little steps. Here are some of our efforts to act as an eco-friendly hostel:
Developing our garden with organic products for using at breakfast table or self-cooked meals by guests: In both of Hi Tehran Hostel branches we use our fruit trees (fig, pomegranate and orange) products for the breakfast table when possible and also we have big range of free products of our cozy garden for the guests (pepper, eggplants, Green herbs for salad, and potatoes);
Considering a separate storage in fridge for sharing food leftovers and feeding cats of the neighborhood giving with dish leftovers;
Switch all bulb lights to LED lights and using automatic Turn off lights;
Using movable open/close drapes to reduce the heat dissipation and use of the daylight;
Reusing the pond's water for the garden and plants or washing the ground;
Cooperating with multi-ethnic and nationality team members to embrace the diverse races and ethnics of Iran and our dear neighbor Afghanistan;
Using an online system for check-in/check-out and rooms management instead of using papers;
Providing high-quality big Metro Map, City map and touristic sights on the website and walls with QR code for scan downloading instead of paper printing;
Providing common cotton shopping bags for both staff and guests to be used for grocery shopping while staying in Hi Tehran Hostels;
Using double-paned windows for less energy loss wherever possible and recycled glass for other windows;
Washing and reusing linen and towels and asking the guests to reuse their clean towels while staying with us;
Providing special space and offering discounts, tips for repairing and promotions for cyclists and hikers;
Providing separate bins for compost and dry wastes and have signs to motivate our guests to recycle their trash into our separate containers;
Providing only ceramic and glass cups and plates instead of plastic ones;
Using refillable skin care and washing liquids dispensers;
Buying local traditional bread, cookies and consumer products instead of imported brand ones to support the local community;
Having local art crafts as the main decoration of the hostels (hand painted tiles and textiles weaved straw mats, re-used designs for some of seats and tables in the back garden);
Collective cooking events for sharing the food culture, providing board and collective games and traditional music playing events instead of TV in each room, cultural free discussions in social hangout area, and group walking in the neighborhood as main activities.
Providing Eco-friendly air conditioners and we ask guests to cooperate with us with reusing towels and turning off the lights.
Providing free water cooler machine with big mineral water tank for the guests instead of selling bottled waters.
Checking for leaking faucets and structure improvements …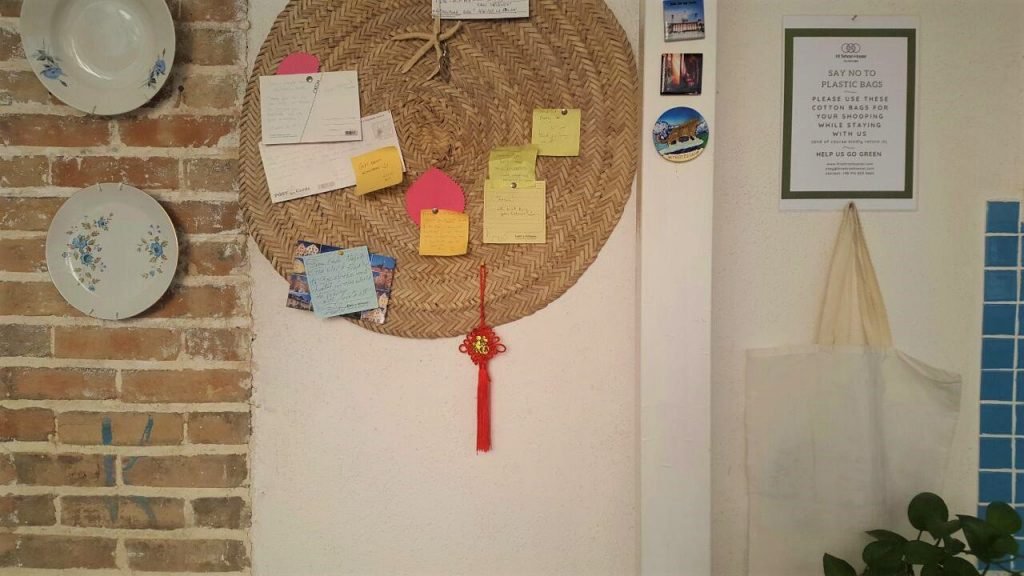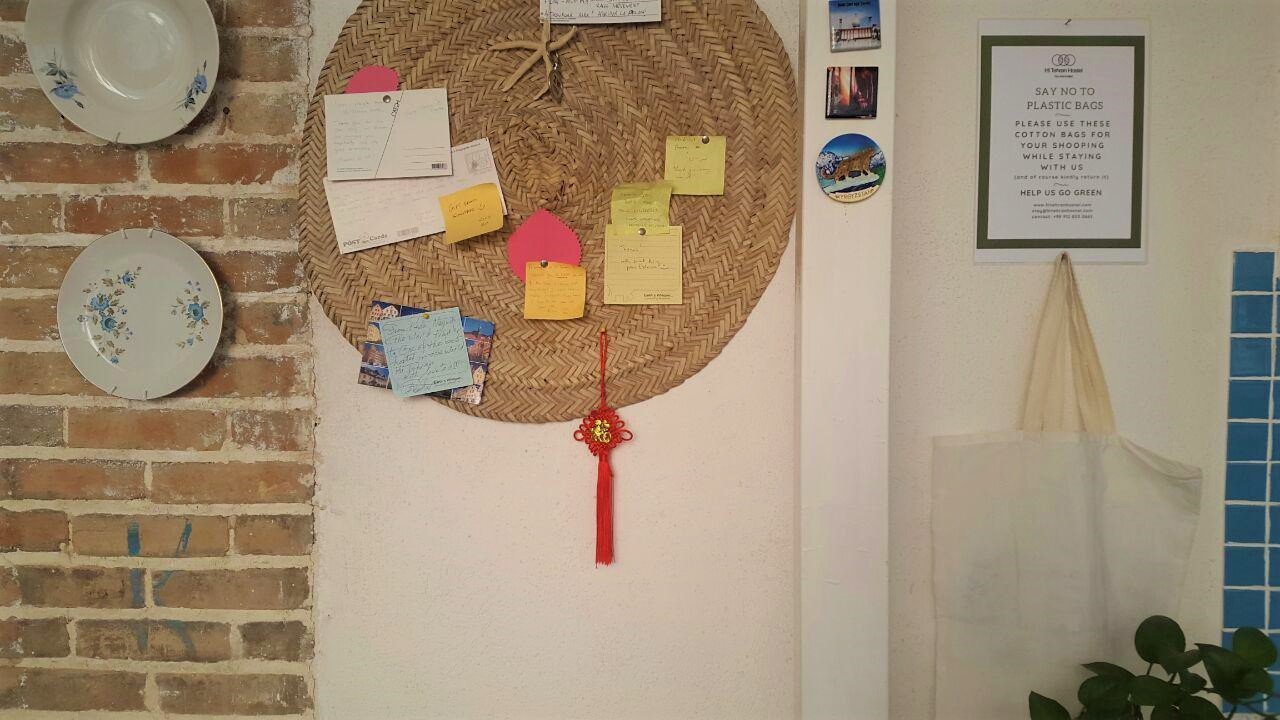 How you can help us in the process?
As mentioned before, Hi Tehran Hostels won't be successful eco-friendly hostels without the help of their guests. Going green is a collective activity. Otherwise there will be many malfunctions in adapted sustainable approaches. That's why we invite our guests to support us with some instructions:
Use our provided cotton shopping bags and kindly return them to the hostel afterwards;
Preserve their extra food in our containers and put them in the fridge with a sharing note;
Switching off the lights and air conditioner after leaving the room;
Reusing the towels and linens while staying and avoid dropping the towels on the ground;
Throwing dry and wet waste into their special separated bins. No cigarette ash in recycle bin;
Kindly spread the word of our discounts and promotions for bikers and hikers;
If you're willing to organize events, share your local / cultural experiences and practices with others, kindly let us know;
Give us your precious advises for improvement …
Writer: Golnar ZAMANI
Book Your Stay at Hi Tehran Hostel Now
HI Tehran Hostel offers excellent value budget accommodation in a convenient location of Tehran, Dorms from 5 Euros, Privates from 20 + 24/7 Reception. You Are Invited!
Hi Tehran Hostel Video Tour
---
Was this article helpful? Share it with your friends!