Cultural centers in Tehran
1. Tehran City Theater
The modern building of City Theater, located at the junction of Enqelab and Valiasr avenues, is another eye-catching monument of Tehran.City Theater is surrounded by a park named Daneshjou(students). It is Iran's largest theater complex comprising five halls, namely the Main Hall, Chaharsou, Qashqaie, Sayeh and a rehearsal hall in the basement. The environment is youth and student friendly.The monument is among the first postmodern buildings of Tehran.
(Metro station: Theatr-e-Shahr)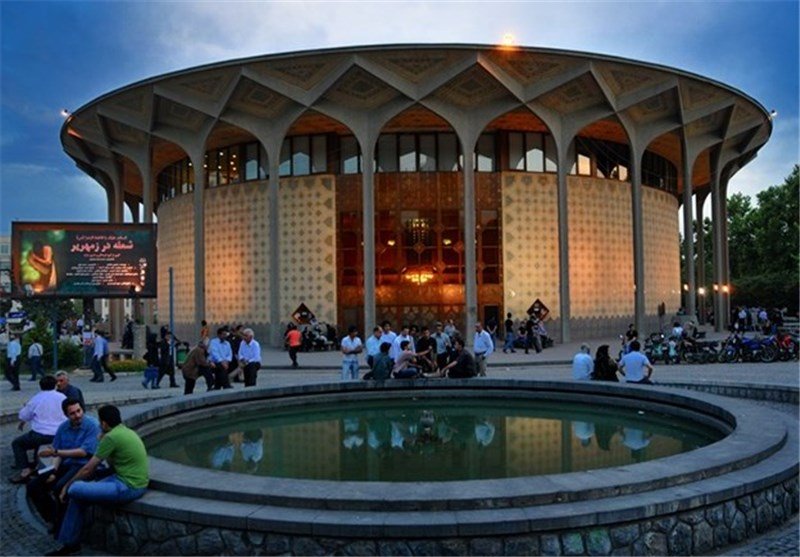 2. Vahdat Concert Hall
Another notable cultural and architectural legacy from pre-revolutionary Iran is the Vahdat Hall (talar-e vahdat), the capital's only opera house. Completed in 1967, the Vahdat Hall was at the time one of the most state-of-the-art opera houses in the world, and still holds its own today. The main auditorium seats over 1000 spectators; though no longer accommodating opera or ballet performances, it remains an important centre for the performing arts, featuring regular plays as well as housing the Tehran Symphony Orchestra.
(MetroStation: Ferdosi or Theatre Shahr)
3. Iranshahr theater Hall
Iranshahr Theatre is another industrious hub of dramatic activity, located centrally in Park-e Honarmandan. One of the oldest theaters in Tehran, Iranshahr has two large stages with performances being held most days of the week. The second floor café is a great place to meet Iranian thespians and discuss the latest play and playwrights making waves in Tehran. Adaptions of Western plays are not uncommon, although most productions are domestic creations. Like City Theater, Iranshahr is an important venue for theatre festivals, most notably, the Fadjr International Festival held annually.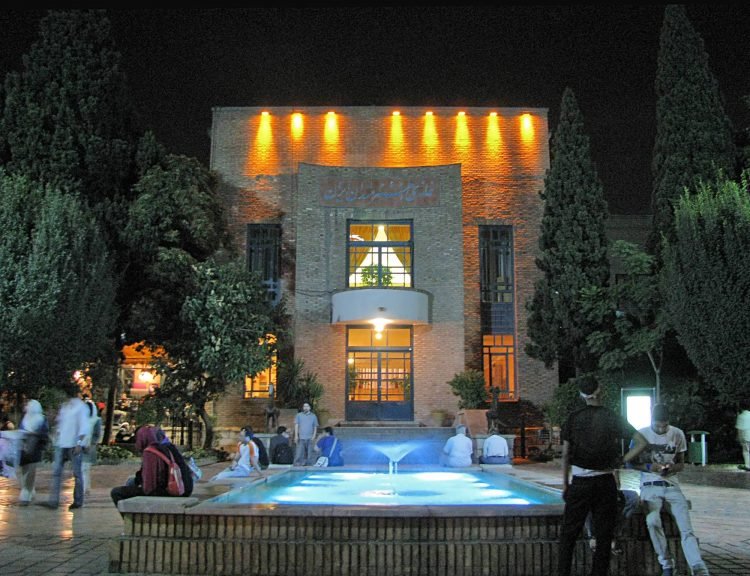 (Metro Station: Taleghani)
4. Mellat Cinema Complex:
Mellat Cinema Complex is located at the west side of Mellat park. The complex is in an area of 6000 square meters. It contains four theater halls, a cinematheque with, and space for holding exhibitions and marketing cultural products.
(Can be reached by Valiasr two-ways busses).
*** concerts and theaters scadules and online ticket booking is possible through: https://www.iranconcert.com and http://www.tiwall.com
Sport activities in Tehran
1. Climbing
Mount Tochal sits in the mountain range to the north of Tehran, with its peak reaching a staggering 3,993 metres. An excellent challenge for mountaineers, trails set off from Darakeh and Velanjak, with tea houses staggered along the way. If you lack the time or inclination for the trek, a telecabin service will take you all the way up the mountain for a reasonable fee. The top of the mountain also has a small ski piste, with equipment available to rent. Not as impressive as Dizin or Shemshak ski resorts, but ideal for a quick afternoon getaway.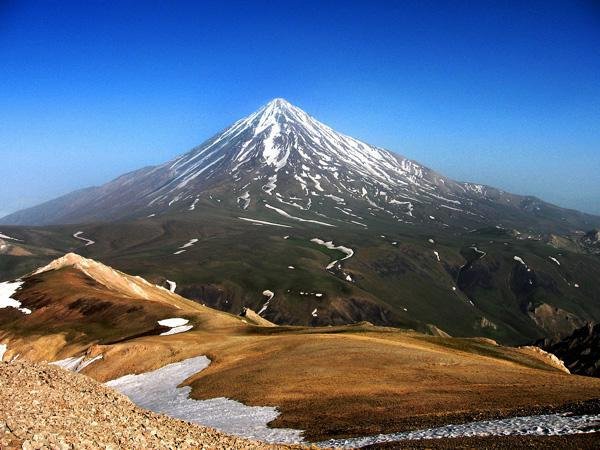 (Use a private taxi or go to Tajrish metro station and then use a shuttle taxi from Darbans street)
2. Dizin Ski Resort
Dizin is one of the largest Iranian ski resorts in the Alborz mountain range, near Tehran and also the city of Karaj. The ski season in Dizin lasts longer than in European ski resorts, from December to May, due to the resort's high altitude. The highest ski lift reaches 3,600 m (11,800 ft), making it one of the 40 highest ski resorts in the world. Dizin ski amenities include two hotels, 19 cottages and five restaurants, villas and private apartments around the Dizin ski resort accommodate thousands of people every year.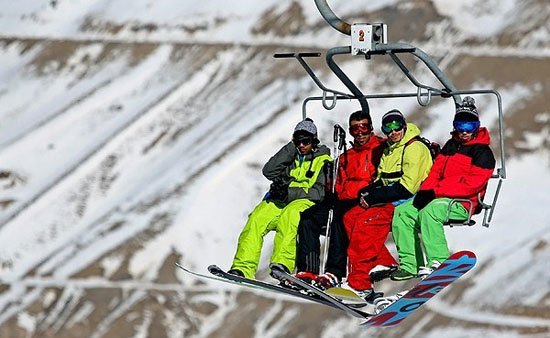 (you need to arrange a full trip by car)
3. Enghelab Complex
The Enghelab Sport Complex is a sport complex in Tehran, Iran. The complex hosts about 10 000 people daily who participate in different activities. If you are not a club member you have to pay an entrance in addition to each facility. The facilities are include: Golf Course, Skating Academy, Matrix Paintball Club, Bowling Club, Tennis Courts, Squash Club, Skating & Inline Hockey Arena, Indoors & Outdoors Swimming Pools, Fishing Pool, Karting Track, Basketball Halls, Soccer Fields, Fitness Gym.
Cafes, Tea houses and Restaurants in Tehran
1. Azari Tea house(reserve in advance)
Just north of the train station, this large and wonderfully atmospheric chaykhaneh is justly popular with locals. The dizi (lamb, potato and chickpea stew) and kashk-e bademjan (eggplant fried and mashed and served with thick whey and mint) are excellent, making it a great food venue. It's one of the best places in Tehran for a "traditional" Iranian dining experience. Sweet, hospitable smells of flavored tobacco waft through its beautifully-restored patterned brick facade. The atmosphere is everything at this superbly executed establishment and a warm greeting from the staff tells you that considerate service has also been brought into the mix – an important factor in a place so ideal for foreign visitors. Little fluted glasses of tea are set on saucers with a satisfying clunk almost as soon as you are seated. Closely following are plates of succulent dates and soft, freshly-baked cookies. One night's entertainment at the Azari consists of 3 different local and traditional musical acts. In the evening there's live music from 8pm. It is highly recommended.
(Metro station: Railway Station, or use Valiasr two-way busses and get off at the last station)
2.Moslem Restaurant
No trip to Tehran is complete without an afternoon in its historic, commercial heart: the Grand Bazaar. And no visit to Grand Bazaar is complete without having Tahchin at Moslem restaurant. The phenomenally busy Moslem Restaurant is probably the most popular place to eat in the whole Bazaar. Reportedly serving over 4000 customers a day, you may have to wait thirty minutes or so to be served. Located by main entrance on Panzdah-e Khordad, its no frills, in-out philosophy makes it the closest thing the bazaar has to a canteen. Its speciality is Tahchin, a delicious Iranian rice cake packed with saffron, egg, yogurt, and chicken, although they offer an excellent range of kebabs too.
(Metro Station: Panzdah-e-Khordad)
-Naderi Cafe:
On the ground floor of the Hotel Naderi, this pastel-shaded cafe has long been a favorite, attracting a curious mix of students, artists and grannies in a setting that is circa 1950s Paris (unrenovated). The cafe fare is limited to Turkish and French coffee and a cake or two. Don't expect much service (or change) from the grumpy waiters.It is populaire because it used to be the gathering spot for intellectual writers and political activists during Pahlavi era. The adjoining restaurant has a full menu and is known by generations of Tehranis for its chateaubriand and schnitzel.
(Metro Station: Ferdosi)
3.Vegeterian Restaurant and traditional tea house of Honarmandan Park
(Read our full essay on this on: https://www.hitehranhostel.com/iranian-artists-forum/): Wholesome vegetarian meals are served in this popular place where the produce is bought fresh each day and the kitchen is completely meat-free, so there'll be no surprises in the salads, pizzas or khoresht (stew). There's a convivial, romantic indoor-outdoor terrace plus the bright dining area. There are several restaurants in the Iran Artists' Forum; the entrance is around the right-hand side as you approach from the front.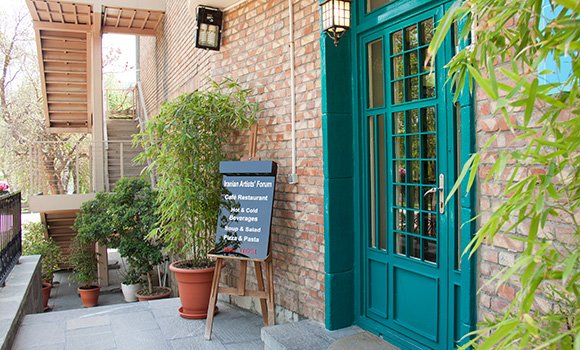 (Metro Station: Taleghani)
4.Lamiz Cafes:
It's hard to argue that coffee shops symbolize "western immorality" when coffee has been a part of Persian and Middle Eastern culture since long before the development of the western world. But one of the many influences the youth have had on Tehran is a rise in new modern western and specially "Starbucks" style coffee shops opening around the city in recent years. These coffee shops are often the places where young Iranians socialize or use free wifi. Lamiz chain coffee shops are the most famous "starbucks" style ones in Tehran.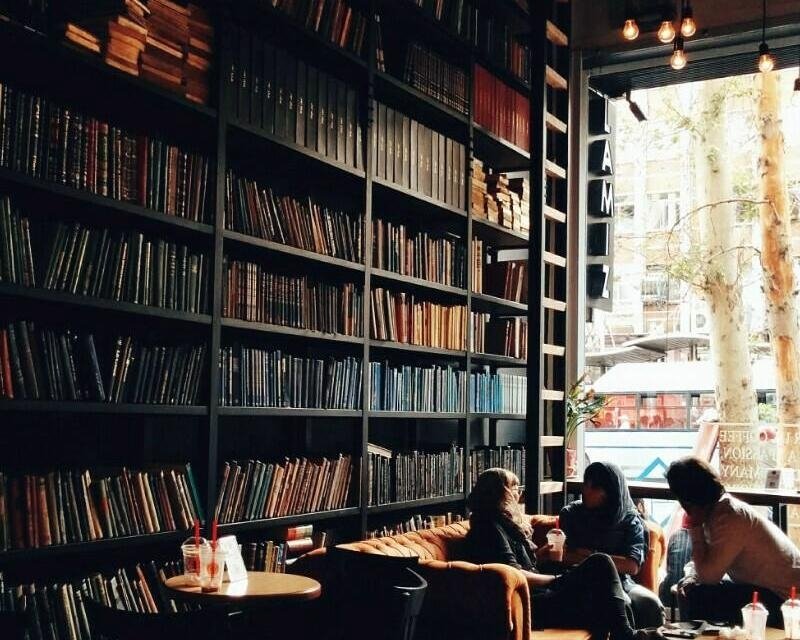 (Use the google map to locate the nearest shop)
-…Go to any cafe or restaurant that its decoration grabbed your attention, they are mostly pleasing.
Gardens and sights in Tehran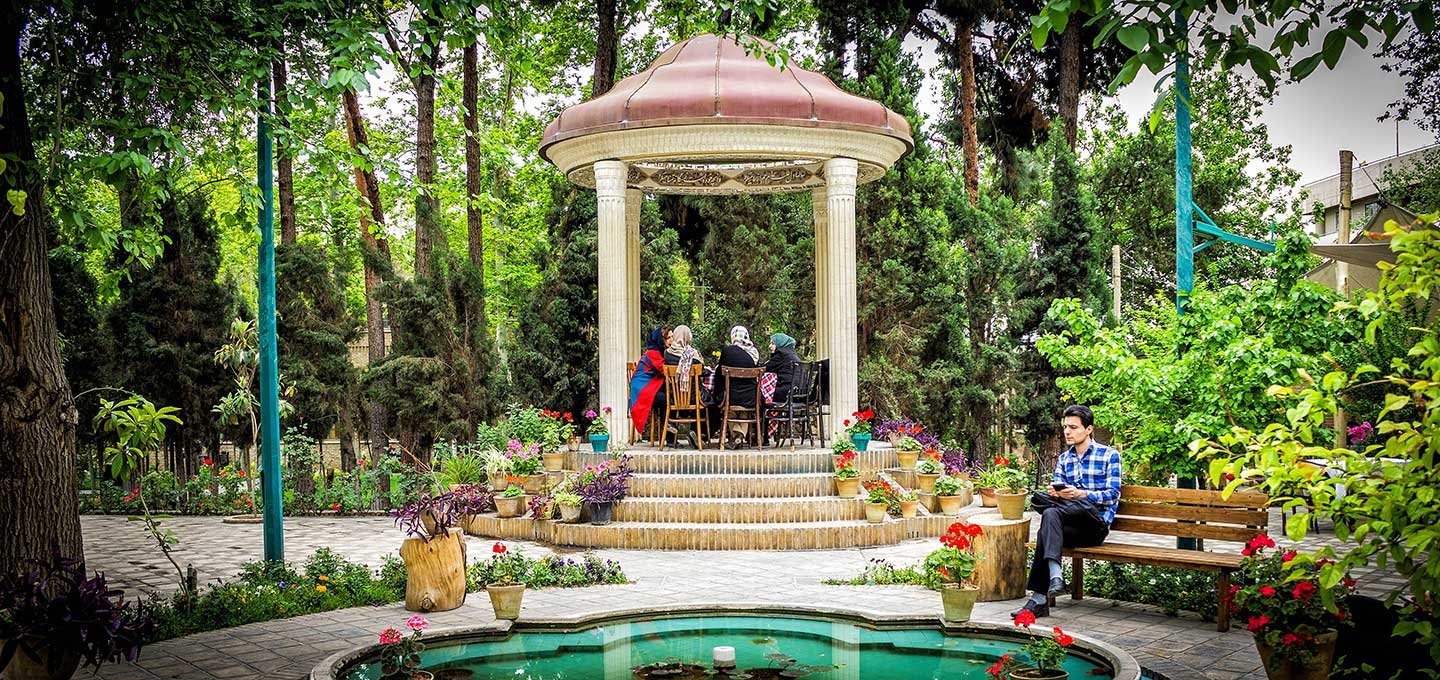 1.Negarestan Garden
Negarestan palace or garden was founded by order of Fath Ali Shah, Qajar King, as a summering place out of capital. For presence of paintings and various depictions of king and his courtiers in various buildings, the garden was called "Negarestan" [location of depictions and designs/garden full of colorful vegetation]. The garden coveres a vast area and is a perfect place to have a soft traditional drink or tea and enjoy the architecture and atmosphere.
(MetroStation: Darvaze Shemran or Imam Khomeini)
2.Dar-ul-Fonoon School
Dar ul-Funun (meaning "Polytechnic"), established in 1851, was the first modern university and modern institution of higher learning in Iran. This was Iran's first modern university and parts of it have recently been handsomely restored with the aim of making it into a museum on education. The courtyard houses a peaceful garden designed in the shape of the Union Jack flag with the surrounding walls featuring snippets of Persian poetry inscribed on decorative tiles.
(Metro Station: Imam Khomeini).
3.Sepahsalar Mosque and School
Just south of the Iranian majlis (parliament), this Islamic college is arguably the most noteworthy example of Persian architecture of the Qajar period, as well as one of the largest. Built between 1878 and 1890, it is famed for its multiple minarets, high domes and iwans, and poetry inscribed in several ancient scripts on the beautiful tiling. It is closed to the general public. However, you may be lucky with the door guards, and some local guides are able to talk their way in (male guests only). A ban on photography both outside and inside the complex is vigorously enforced.
(Metro Station: Saadi or Imam Khomeini).
Writer: Golnar ZAMANI
Book Your Stay at Hi Tehran Hostel Now
HI Tehran Hostel offers excellent value budget accommodation in a convenient location of Tehran, Dorms from 5 Euros, Privates from 20 + 24/7 Reception. You Are Invited!
Hi Tehran Hostel Video Tour
---
Was this article helpful? Share it with your friends!