A brief guide for Iran Train System
As much as traveling with train is safe and convenient, it's also quite amazing. The safety is one the biggest reason why many people around the world chose it as their travel mean over the others. In this article we try to introduce Iran's train system and services. Most of the Iran's train Coupes were imported on 2014 from Germany. In general, Fadak trains with different amenities, guest attendees trained by the trainers of the Lufthansa airline, dining and catering services provided by DoNA, the Iranian-Austrian catering company, offer services on a world-class quality. On the other hand, RAJA trains are usually not as modern and high-quality as the Fadak's, but as the first and oldest train company they almost cover all of the possible destinations and are not limited in their schedule as the Fadak trains are.
FADAK Train Services
The services of Fadak trains with the ability to move at speeds of 200 km / h, are offered in four different classes, along the routes of Tehran-Mashhad, Qom-Mashhad and Tehran-Shiraz. The Fadak Train has made it possible for travelers, depending on their expectations, to choose the level of service they want to receive. Some of its services are:
Providing a private welcoming entrance for the guests at the station with serving unlimited warm or cold welcoming drinks;
Providing entertainment through its movie and music media on the train and Wi-Fi system for connecting to personal smartphones and smart air condition system;
Iranian and Western style vacuum baths, Clean and sanitary bed and sleeping service along with a very professional attendants;
Providing international catering services for European cuisine with Iranian touch;
CCTV system in public spaces and Fire detection system for more security;
Sound and thermal insulators to eliminate disturbing sounds and increase the quality of travel.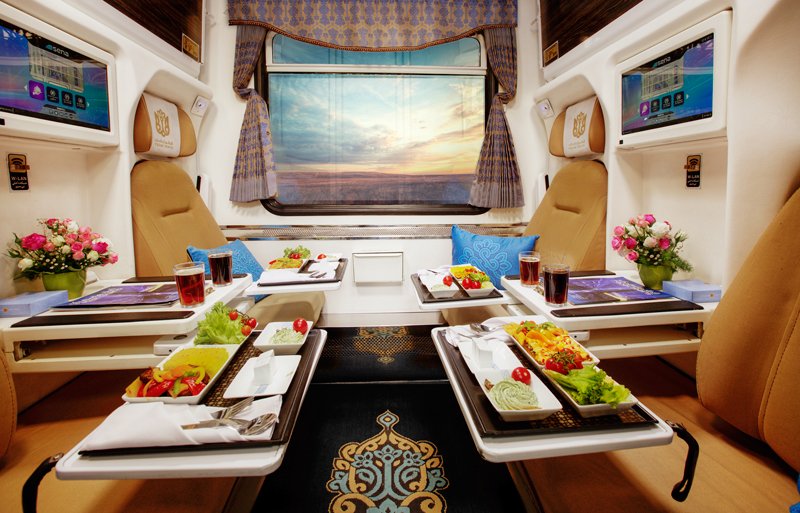 Fadak trains are divided into five different classes: 1. Fadak Special Five Star Class; 2. Fadak Economic Five Star Class; 3. Fadak Five Star Business Class; 4. Fadak Five Star Class with Evening meal; 5. Fadak Five Star Class with Evening meal and Hotel.
Fadak trains operate on three main routes at this moment which you can see in the info graphic below: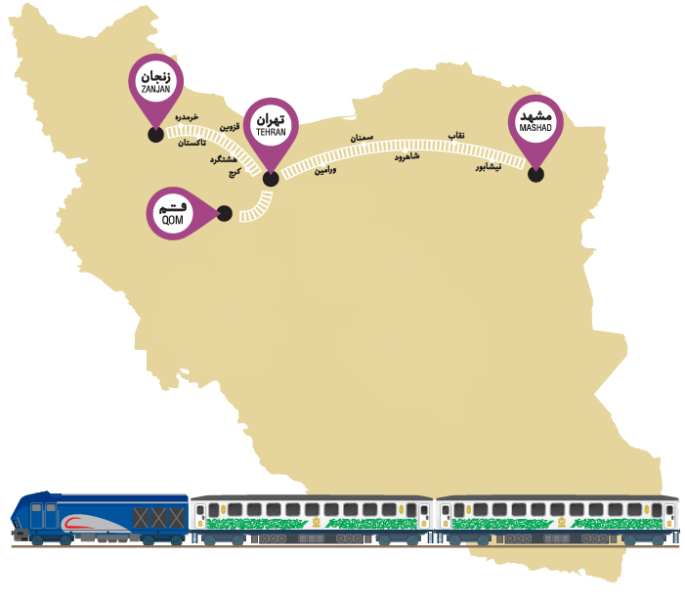 RAJA Train Services
Raja train services, in addition to long-distance travel, are used for other purposes. These trains are divided into three different categories:
Four-board trains, which are the most popular ones due to their comfort and services. These trains are very suitable for family trips;
Six-board trains, which are more economical and they are very suitable for group trips like student tours;
Hall seats trains, which are more suitable for big tours as the seats are arranged inside long halls exactly like plains and busses.
Car Carriage of Raja Trains
One of the advantages of the Raja trains over Fadak is the possibility of carrying the passenger's cars. Many travelers, especially those who intend to stay in a city for a long time or plan to explore Iran by their own car, are interested or even forced to carry their personal vehicle. The car carriage of the Raja train has made this situation possible.
Tourism Train System
One of the innovations of Raja is the launch of a tourism train for the first time in Iran. Stations in the direction of Tehran – Pole-e-Sepid (North of Iran) are defined to discover the natural attractions of this route. Every Thursday at 6:30 in the morning, the train will take passengers from Tehran to start their journey.
After breakfast, the train reaches the fertile plain of Varamin and after leaving it on the Garmsar margin, the route will show the beauties of the desert to travelers. The train will continue in a different direction to the northern part of the country and will soon reach the first stop in Hablehrood. At this point, passengers can take off the train and take a little tour in the nature. Again, the train began its journey and will pass by the Kabootardarreh (valley of the pigeons), Simin Dasht and Zarrin Dasht and gradually enter the mountainous part in the north of Iran. After a little course in this section, the second stop will be in ten Shurab village. And the journey will end after the second stop and by coming back to Tehran around 9 PM while seeing breathtaking 3 Golden Rail Lines in the mountains from Pahlavi period.
IMPORTANT NOTE: To reserve this one-day tour train on Thursdays, you have to book it at least 1 week in advance. Of course if you're lucky enough to still find it available.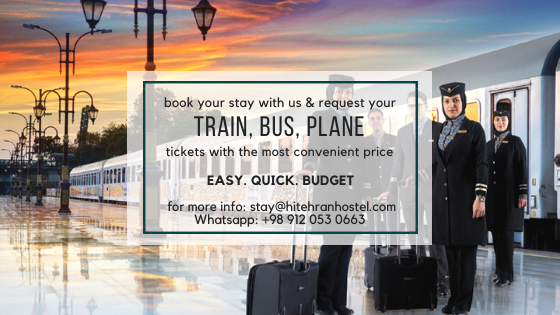 Book your tickets with HI Tehran Hostel with the most convenient price
To ease the travel process of our dear guests, we offer to book their tickets through their Iran holiday. We try our best to keep it cheap, do it easy, precise and quick, and take responsibility with all of our provided services. Take a look at what we will need to book your train, bus or plane tickets:
We only provide ticket booking services for Hi Tehran Hostel Guests;
You have to email us at  stay@hitehranhostel.com after your booking to input your query.
You may also contact us by phone or Whatsapp on: +98 912 053 0663;
Depend on the query you might need to transfer the fee in advance which is only possible through an European bank account at the moment;
The tickets are NONE-REFUNDABLE, so we encourage you to put your enquiry when your dates are solid;
We will need your passport scans, exact date and approximate time of your preference for the tickets (Early morning, late morning, noon, afternoon, evening or late night);
We will check all the details and price with you before finalizing the tickets;
And of course we will be happy to guide you through the whole process till the final touch point of your transport.
Writer: Golnar ZAMANI
Book Your Stay at Hi Tehran Hostel Now
HI Tehran Hostel offers excellent value budget accommodation in a convenient location of Tehran, stay with us and see what a difference a stay makes. You Are Invited!
---
Was this article helpful? Share it with your friends!