We have noticed many times our guests like to buy a Persian carpet, Kilim or Rug in Tehran bazaar but they encounter many challenges. From finding what they really like, to wondering if it's the right price or they have been treated like a tourist, to not even knowing what's the difference between a carpet and kilim and their price differences or not being sure about the quality, to not being able to find a convenient yet budget option, and many other challenges. It seems that the biggest challenge for a tourist who wants to buy a carpet in Tehran bazaar is to recognize the mimics and be able to bargain. You have to know how much you can insist and when is the right time to leave the shop or close the deal.
Therefore, we decided to design and organize a Tehran carpet shopping tour with a carpet expert and in the end combine it with a half day fun Tehran tour to have the whole package: shopping and exploring the old neighborhoods.
Tehran Carpet Shopping Tour
In this tour:
First: we take you to Sabze Meydan, the main entrance of Grand Bazaar and then we will walk to the carpet section. On the way, we will give you some explanations about the history, characteristics, patterns, weaving methods and quality of carpets from different parts of Iran since there are a vast variety in Persian carpets and answer your questions;
Second: The exploration begins. You can express what you have in mind and start your window shopping and we will start to modify your searches and help you through till you find what you like and then we start negotiating with the seller and at the same time advise you about it. At the end of this tour you might buy your dream carpet or you might only aim on gaining more experience about Persian carpets. It depends on you.
Third: We will have tea in the world smallest teahouse in Bazaar and start searching Tehran around 2 PM. After visiting Jewelry museum (it's closed on Tuesdays and we will replace Ceramic & Glassware museum), Whether we will have a yummy street food in Bab-Homayoun passage near bazaar or will go to 30-Tir street for a cozy old café restaurant for a really late lunch. We will walk 30-Tir street and visit national gate, old monument of foreign affair ministry and Melal Street.
Fourth: Around 5 PM, we will take the metro to Tajrish square for the big bonus of this tour: Spice shopping in the traditional fruit bazaar of Tajrish. If you want to buy saffron as a souvenir or rose petals and other Iranian herbs, this is the place. We will enjoy our time freely in this cozy bazaar
Fifth: We will have a tea/coffee to relax and then go to Imamzadeh Saleh Shrine in Tajrish as the ending point of our tour to enjoy the mirror art decoration in the interior of the shrine. The atmosphere is lively and attractive in the evening. At last, we will use Tajrish metro station to get back to the hostel after this long day (or if still alive, it's possible to walk down the Valiasr street (the longest street in middle east) from the beginning of it at Tajrish square and visit the heaven garden after 15 min of walking and enjoy Chenar trees and ambiance along the way.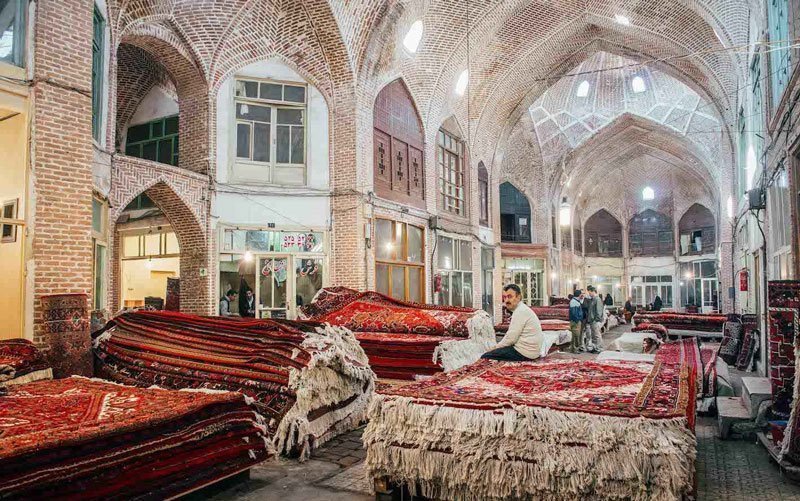 Important Note:

We have no contract with no carpet shop in the Bazaar to take you there. So, we will be focus on what you like and we will provide our suggestions. You can be sure that you have plenty of time and choices. It won't be one of the shopping tours that you will be taken to selected shops for shopping under a pourcent.
– You can find every kind of carpet from different parts of Iran and what you can find in other cities in the Carpet section of Tehran Grand Bazaar; from Qashqai to Turkmen carpet. That's why it's better to save all the drama or stress of buying and posting a carpet from Isfahan or Shiraz to Tehran and get it easily in Tehran as the start or end point of your trip. We have seen that sometimes, this process gets a bit complicated.
Tour Type
Shopping/Art and Culture/ Real life & Local experience Tours
Season Types
Start City
Tehran
Inclusions
Tour Guide, Carpet expert, drinks
Exclusions
Entrance fees, meals
Transportation
Walking, Metro, Bus (Taxi on your request)
Requirements
Comfortable walking shoes, patience, trust, good spirit
Languages
Duration
1 Days 0 Nights (From 9.30 am to 8.00 pm)
Group Size and Fees
The package is designed flexible for the number for different group sizes. You can ask the details of tour fees by emailing us at: hitehranhostel@gmail.com or Whatsapp us: +98 912 053 0663
Book This Tour
Book one of our professional tours and get 15% off on your room