With the increase of Iran's popularity as a top tourist destination, especially for the young backpackers in the recent years, the process of getting visa is now possible through the arrival visa request at Airports. Now the easy process of Iran's Visa on Arrival, save the travelers from all the long processes of embassy interviews or providing valid invitation letters from 2016. And with the change from Feb 2018, there will be no Iran Visa stamp on the passports and only a separate visa paper for the comfort of travelers who might want to travel to US in future.
Iran touristic Visa is issuing again from October 2021. Proof of vaccination and negative PCR test result are mandatory for travelling Iran. We suggest you to secure receiving your Iran E-Visa by EMAILING US (visa@hitehranhostel.com), to be on the safe side for your Iran Travel. Also, Lufthansa flights to Iran, Austrian flights, Turkish flights to Iran, Emarates flights to Iran, and IranAir are all available.
Iran visa on arrival (Iran VOA) or Iran airport visa, refers to a class of short term touristic visa that can be applied for at some of the the Iran's gates of entry, like Tehran Imam Khomeini airport (IKA), Shiraz, Isfahan, Tabriz, Mashhad, and Kish international airport. Despite many travelers information, getting the visa on arrival in Iran especially in the airports is super easy and almost possible for everyone. The process of getting a 30-day Iran visa on arrival in Tehran has been going on for almost two years now. The process is very easy and clear, and also it's possible to extend it even at immigration offices in all the big cities for another 14 to 30 days depend on the case.
---
Iran visa on arrival guide
Iran Visa on Arrival Video Guide
To get the answer to all of your question please read the article
Where you can get Iran VOA?
Iran visa on arrival has 14-30 days validity and issued currently at the six airport & ports in Iran. The number of these gateways are in rise and hopefully soon you might be able to get your Visa on arrival at any point of entry. But for now these are the airports/ports that you issue visa on arrival for tourism related travels to Iran on a case by case base.
Which Airports in Iran Issue Voa?
IKIA: Tehran Imam Khomeini International Airport
THR: Mehrabad International Airport
MHD: Mashhad International Airport
SYZ: Shiraz International Airport
TBZ: Tabriz International Airport
ISF: Isfahan International Airport
KIH: Kish international Airport
LRR: Lar International Airport
AWZ: Ahwaz International Airport
BND: Bandar Abbas International Airport
BUZ: Bushehr International Airport
GSM: Qeshm International Airport
Iran VOA at Land Borders and Sea ports
Apart from these options, if you're entering Iran from south through the sea port, BND: Shahid Bahonar Harbor, Bandar-e Abbas is the port where issues Iran VOA. Also, many backpackers and cyclists wish to enter Iran through its common border with Azerbaijan with their own vehicles. It's of course possible through border crossing from Astara in North West of Iran.
Important Note: Issuing VOA at land borders may not be very reliable since the government put a pause to it once in a while considering temporary situations. So, the best way in this case is to make sure about it one week in advance and if necessary, applying for an E-Visa instead.
Iran Visa On Arrival Required Documents
A valid passport with at least 6 months validity;

A photo to be attached to the Iran visa application form. Two passport size pictures are enough. Recently visa officers are using a digital camera to take the needed pictures but still, having your own pictures make the process easier and faster. Female travelers the picture should be with Hijab;
Visa fee in cash, which is payable to the Iran Visa & Passport Office at the airport. Iran airport visa fee depends on the applicant's nationality. At the moment it's somewhere between 75-150 euros, but it may slightly different according to the travelers nationality;

A confirmed return ticket would be a peace of mind. There are lots of travelers who are not sure about their plan and apply for the visa without a return ticket, and it's almost always fine. But if you have a rigid plan, it would be better to have your return ticket reservation at the first point;

A travel/medical insurance to get your visa for Iran (does not matter what kind of visa) is needed. To be accepted at the time of issuing your visa, it's necessary that your insurance policy specifically states the insurance is valid for Iran. Note that the terms of "middle east" or "Asia" on your insurance coverage won't be acceptable and you will end up buying a new one in the airport for 16-20 Euro. If your insurance company covers Iran as well, you can ask them to send you a new format with Iran being underlined in it. We recommend IATI & Truetraveller (Best Option for Europian backpackers).

TAP PERSIA has the biggest and most trustworthy network in Iran with $100k in coverage of travel insurance (including COVID-related issues)
BOOK IRAN TRAVEL INSURANCE
6. On a case by case bases sometimes an invitation letter or hotel reservation (Hostel in Iran reservation) voucher is asked for. You can ask for an invitation letter from an Iranian travel agency or friend to be confirmed at Iran Ministry of Foreign Affairs at least 48 hours before your arrival to Iran airport(It's pretty easy), or simply show your hostel reservation or voucher to the officer. You don't need to have a reservation confirmation for the whole length of your trip. The first 2-3 days of your trip will be sufficient;
For your confirmed itinerary, if you make your reservation in Hi Tehran Hostel, an automatic confirmation letter will be emailed to you after processing your request and payment. You can present the confirmation to the visa officer for the VOA process. They will make a call to confirm your stay at the same moment.
7. Rarely, but possibly you may need to prove your fund ability for your trip. Remember, since the credit cards are not usable in Iran up to now, you HAVE TO BRING ENOUGH CASH FOR THE WHOLE LENGTH OF YOUR TRIP. Dollars, Euros or any other kind of valid currencies in Europe and Asia will be fine for exchange shops in Iran.
Book Your Stay at Hi Tehran Hostel Now
HI Tehran Hostel offers excellent value budget accommodation in a convenient location of Tehran, Dorms from 5 Euros, Privates from 20 + 24/7 Reception. You Are Invited!
Hi Tehran Hostel Video Tour
Iran Visa on Arrival Fee
The arrival visa fee for most of the countries is 75 euros at the moment. But for a few countries, it's up to 150 euros.
Iran Visa Fee offfered by Iran MFA 2019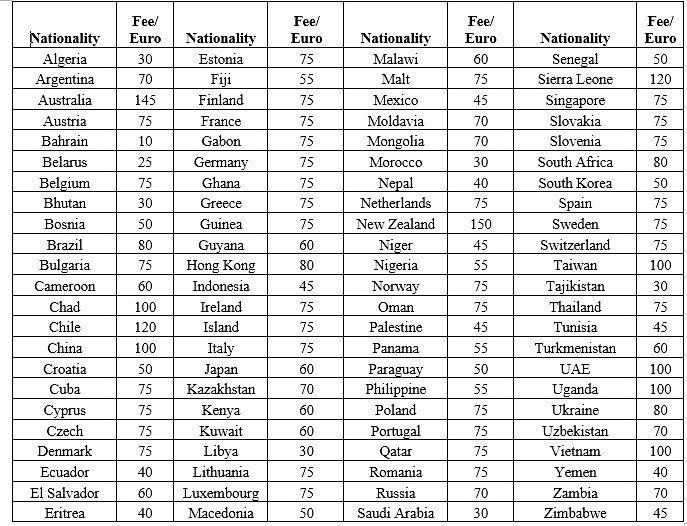 Iran Visa on Arrival Process
In the line of entering Iran's territory, you can reach to the officers which usually stand outside of passport checking stations. You will be asked for your nationality and if you already have the visa or want to get a VOA. In the case of VOA, you have to fill up an application form and also your visa fee receipt which you have to pay at the cashier in Dollars or Euros in cash. Then, you have to deliver your passport, application form and receipt to the visa officer and wait for your turn. They will call your name and give your passport back to you with your visa in it or ask you some additional questions before handing your passport over. The whole process may take 20 Minutes to 1 hour (in rare cases 2-3 hours).
Remember to check your visa carefully and if there's anything wrong with the identity or issued dates, inform the officer immediately to modify it.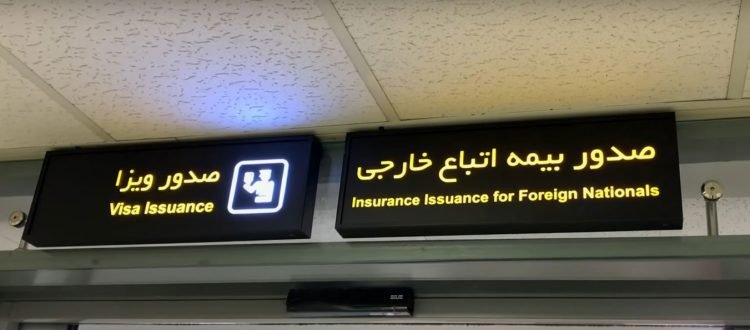 Who can NOT get Iran VOA
The most important and first thing to check is to make sure you are among the countries that are eligible to apply for a visa at Iran's airports. According to the last update released early in 2017 by Iran's Ministry of Foreign Affairs, except for the nationalities mentioned below, the rest of the countries are eligible to apply for Iran visa on arrival at all the international airports:
Travelers from: U.S., UK, Israel, Canada, Colombia, Somalia, Bangladesh, Jordan, Iraq, Afghanistan, Pakistan, and India: the visa on arrival MIGHT be possible if you are a passport holder of these mentioned countries, but we strongly suggest you otherwise.
Travelers who have been rejected for Iran visa FROM THE EMBASSY previously will not receive Iran visa on arrival.
Journalists and reporters on mission cannot get Iran visa on arrival.
Iranian nationals holding other nationality's passport are not allowed to get Iran visa on arrival.
Iran visa on arrival is issued for tourist purposes only (ordinary passport). Diplomatic passport, official passports, etc. cannot apply for this type of Iran visa.
Visa for American, British and Canadian Passport holders

If you're from US or Canada, you have to be accompanied by an authorized and licensed travel agency guide through your entire trip. This kind of arrangement works whether you hire an official private tour guide or join a pre-organized tour. We recommend you to email us to proceed on your visa process.

Applying for Iran's E-Visa
The most important thing to know which seems to be one of the main concerns for tourists is that Iran E-Visa process is NOT mandatory before coming to Iran. And more importantly, there's no relevance between the E-Visa process and VOA. Travelers get randomly rejected in the E-Visa process with this reason: "apply via host for Iran".
First of all, no hotels/hostels are authorized to provide you a reference number or be your private host. Iran E-Visa is more used for private visits and not touristic purposes. So, no worries about the famous "Reference Number". You can easily apply for VOA in Iran's airport (if you're applicable), EVEN if your E-Visa has been REJECTED. However, applying for it might save you the time of staying in the line at the airport for obtaining your VOA. The process of applying for Iran's E-Visa usually takes 48-72 hours depending on the case and request traffic.
We also suggest you to apply for your Iran E-Visa through our dear friends at TAP Persia Travel Agency. You'll have your guaranteed 30 Day Iran visa in 3 business days.

APPLY NOW
Although, you can apply for your visa through Iran e-visa application website, or we recommend you to email us (visa@hitehranhostel.com) for a fast and reliable 30-day Iran visa. Get your guaranteed approval in 5-7 business days. Americans, Canadians & Brits are also eligible for this service.
Take a look at the form of E-Visa in IKA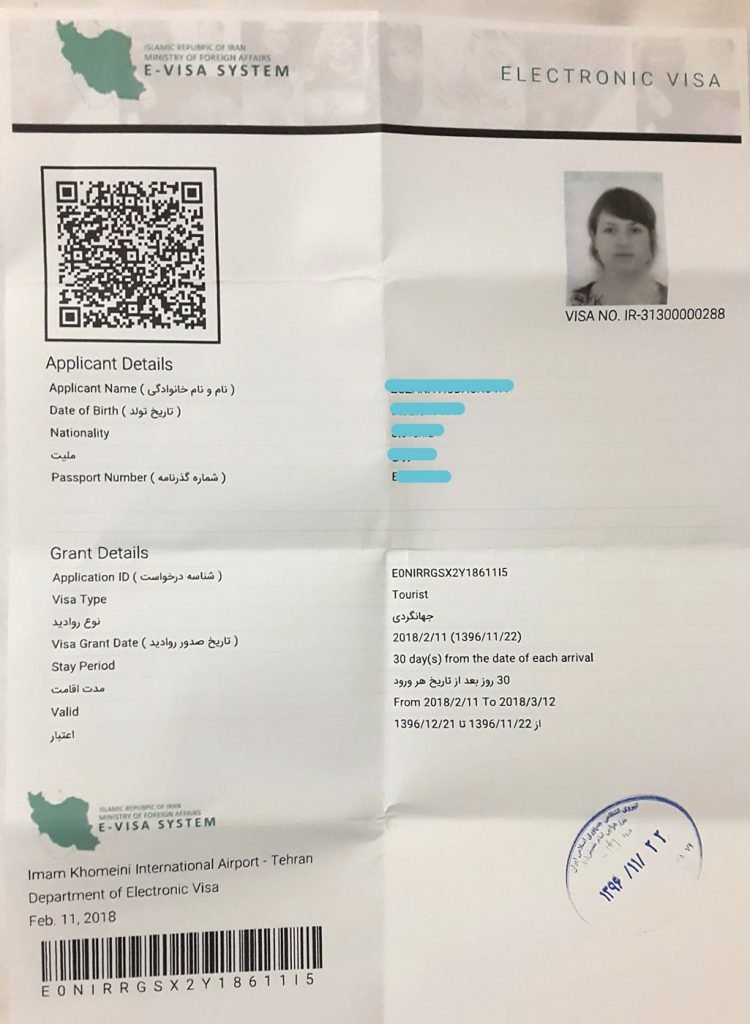 What to do if your E-Visa got rejected?
As mentioned in the previous section, E-Visa process is NOT mandatory before coming to Iran unless you feel like it. And more importantly, there's no relevance between the E-Visa process and VOA. Travelers get randomly rejected in the E-Visa process with this reason: "apply via host or a travel agency in Iran". Or, you may be asked to book a hotel instead of a hostel! The only reason for this kind of rejection is that, Iran tourism section randomly reject E-Visas to encourage tourists proceed through expensive travel agencies to empower them according to their new investments! absolutely not necessary to fall for it. You have nothing to worry about if your E-Visa get rejected, since you can get the VOA, like the majority of other Iran tourists at IKA Tehran Airport.
How to extend Iran Visa?
Your visa on arrival for Iran now lasts for 15 or 30 days depending on the request and can be extended for another 15 or 30 days at an immigration office around the country, yet it's better to be done in Tehran, Isfahan, Shiraz, and Mashhad. The process usually takes within one working day between 1-4 hours. However, if the visa is not renewed at this time, the passport remains in the hands of the foreign police department until the visa is issued.
Two pieces of photo 4 * 6 (Photos of women should be with Hijab);
Completion of the Visa Application Form;
Copy of passport and visa pages of Iran;
Official governmental stamp (can be purchased in the immigration office);
Payment of visa renewal fee.
Extending VOA in Tehran
Tehran central office address for visa extension: Central Police Department of Immigration and Passports, Kooh-e Noor St., Motahari St.
Phone: +98 21 7394 8912
Hours: From 7:30 AM – 13: 30 PM (closed on Fridays)
---
WE WILL KEEP THIS POST UPDATED, BUT CHECKING OUT THE IRAN EMBASSY ONLINE INFORMATION WILL GIVE A PEACE OF MIND AS WELL. Updated on JAN 2022
Writer: Golnar ZAMANI
Read more about Iran Dress Code